Sailing around Mykonos and the Aegean Sea
From the moment you arrive in Mykonos, your soul will be captured by the endless blue horizon; the sunny blue skies, the deep, crystal blue color of the Aegean Sea, and its "floating" rocks that form the spectacular surrounding Cycladic islands. Most visitors feel the instant desire to "grow wings", as they say, so that they can be able to hop around this beautiful, historical Greek archipelago.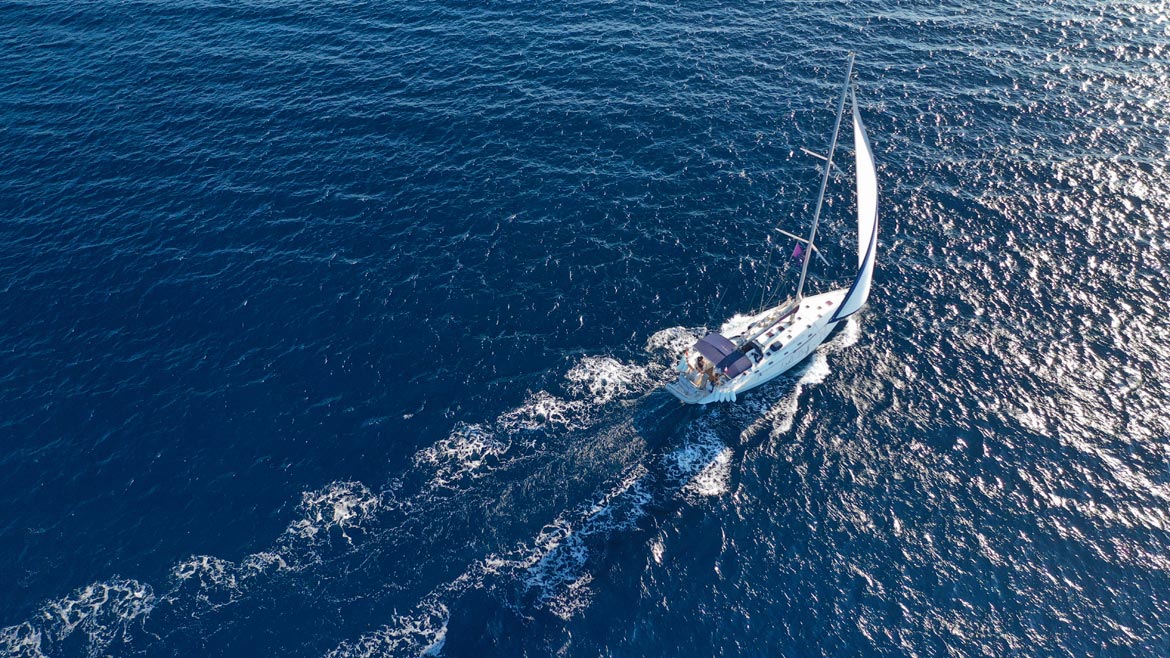 Don't worry, though, because next best thing to growing wings, is renting a sailing boat and take a one-or-more days' cruise to experience the magic of sailing around Mykonos and the Aegean.
On the island you will find many exclusive boat-renting agencies that can take full care of such an experience, by suggesting the ideal boat —from small sailing vessels to mega yachts— securing a well-trained crew to cover all your needs and designing a perfect itinerary that will combine luxury leisure with exciting guided tours around the nearby islands.
Below are some ideas to make you dream and help you create some of the best memories in your life:
Delos
Not more than 30 minutes (max) away from Mykonos, Delos Island —the mythological birthplace of ancient god Apollo— is one of the most important archaeological sites in the Cyclades. A guided tour is a must, as Delos ruins include ancient temples, an amphitheater, houses with mosaics and the iconic "Terrace of the Lions"!
Rhenia
A tiny untouched island at the southeast of Mykonos, ideal for swimming in crystal clear waters, sunbathing on sandy beaches far from the crowds and watching a spectacular sunset.
Beach hopping
A perfect opportunity to visit many different beaches in Mykonos —from the most popular to the most remote—, enjoy a quiet swim around your boat and a private dinner on board.
Syros
Administrative capital of the Cyclades, Syros is a beautiful, exceptional, not-so-typical Cycladic island worth visiting. Highlight, among many others, its main town built on two "twin" hills.
Naxos
Separated from the opposite Paros Island by a channel about 5 miles wide, Naxos is the largest of the Cyclades Island group. It combines an impressively fertile green landscape with some of the most beautiful Aegean beaches.
Paros
Along with Santorini and Mykonos, Paros is the third most cosmopolitan island of the Cyclades and one of the most beautiful and picturesque, historically known for its fine white marbles.
Antiparos
Less than one nautical mile from Paros, Antiparos is a Cycladic gem, home for many international celebrities who own houses there. Much worth visiting, not only for its beauty, but also for its great archaeological importance.