Have you met Peter(s) from Mykonos?
Few of you may have heard that one of Mykonos first celebrity residents —and lifetime mascot— is Peter, the super-famous pelican!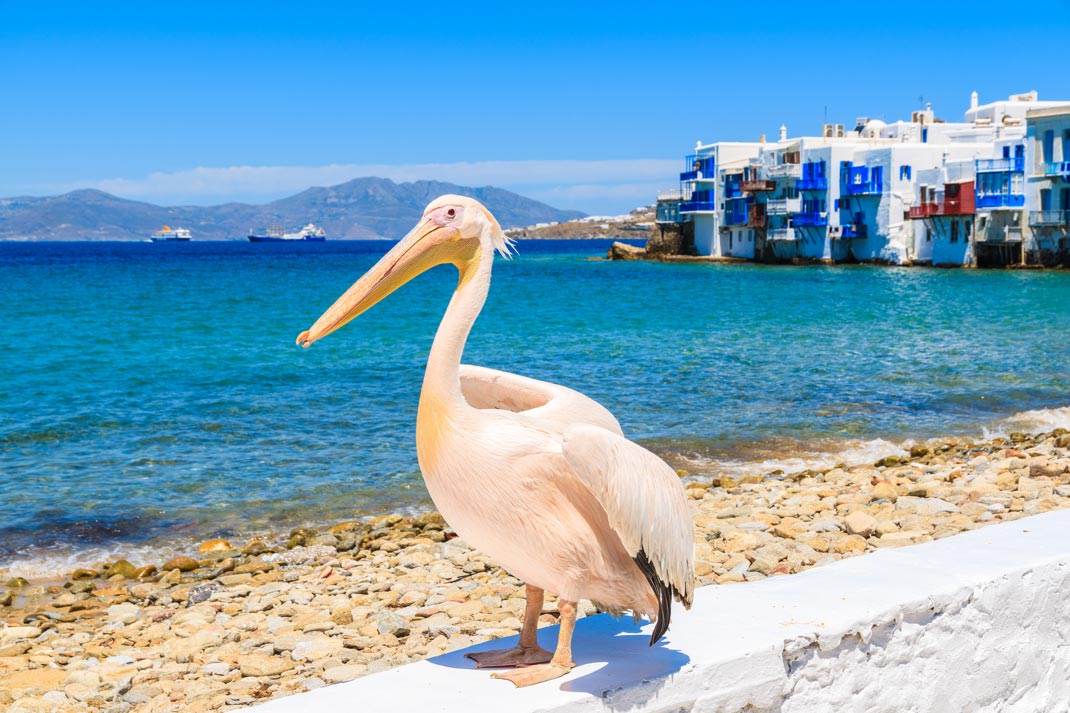 Watching a proud pelican strolling down the main alley of Chora —Mykonos's capital— with his tall, little head looking around almost as if he knows he is being admired by the crowds, is a sight not to miss while on the island. The surprise gets even greater once you realize that the funny elegant creature has two "siblings", which means that there are three pelicans in Mykonos; and also with the same "arrogant" behavior!
The story goes back to 1954. At the time, the international jet-set started discovering the endless beauties of a small fascinating island of the Aegean Archipelago, located opposite to the sacred island of Delos where the ruins of the ancient Greek gods Apollo and Artemis were found. Soon enough Mykonos's amazing coastline, full of sandy beaches with azure waters caught the attention of Hollywood stars and tycoons who started to sail in from around the globe. Among them were many legendary personalities, like Grace Kelly, Marlon Brando, Elisabeth Tailor, John F. Kennedy with his wife Jackie and of course the "locals", like Aristotle Onassis.
It was then when, according to the legend, a fisherman from Mykonos found a wounded pelican. He took care of him with the purpose to help him get well and then set him free. But when the day came, the pelican refused to fly. Instead, he decided to make Mykonos his home. Eventually, the bird took the name Peter (Petros in Greek, meaning stone) and became a "celebrity" and mascot of the exquisite Aegean Island.
So, when in 1986, Petros the Pelican died, everyone was devastated; both his local friends and their children who adored him but also his international admirers who had learned to love him and feed him with small fish. Jackie Kennedy-Onassis rightfully donated another pelican to Mykonos while, according to the locals, even a German zoo rushed to donate to the islanders one of these beautiful, elegant birds.
And this is how today, when you wander around Mykonos's old port and meet Peter(s) the Pelican(s) you must not forget to pay your respects to them – as you have the privilege to salute the unique triple mascots of one of the world's most sought-after paradises!