Mykonos: the most instagrammable summer destination
Look at the girl in the astonishing hand-knitted bikini swimming next to you… She looks somehow familiar, doesn't she? She wears huge sunglasses, and you cannot be sure about her identity — but later, as you relax by scrolling down on your Instagram pages, you realize that the half stranger swimmer was no other than last year's Oscar winner. Just another celebrity choosing Mykonos as the ideal destination for luxury holiday-ers who keep the international paparazzi in business!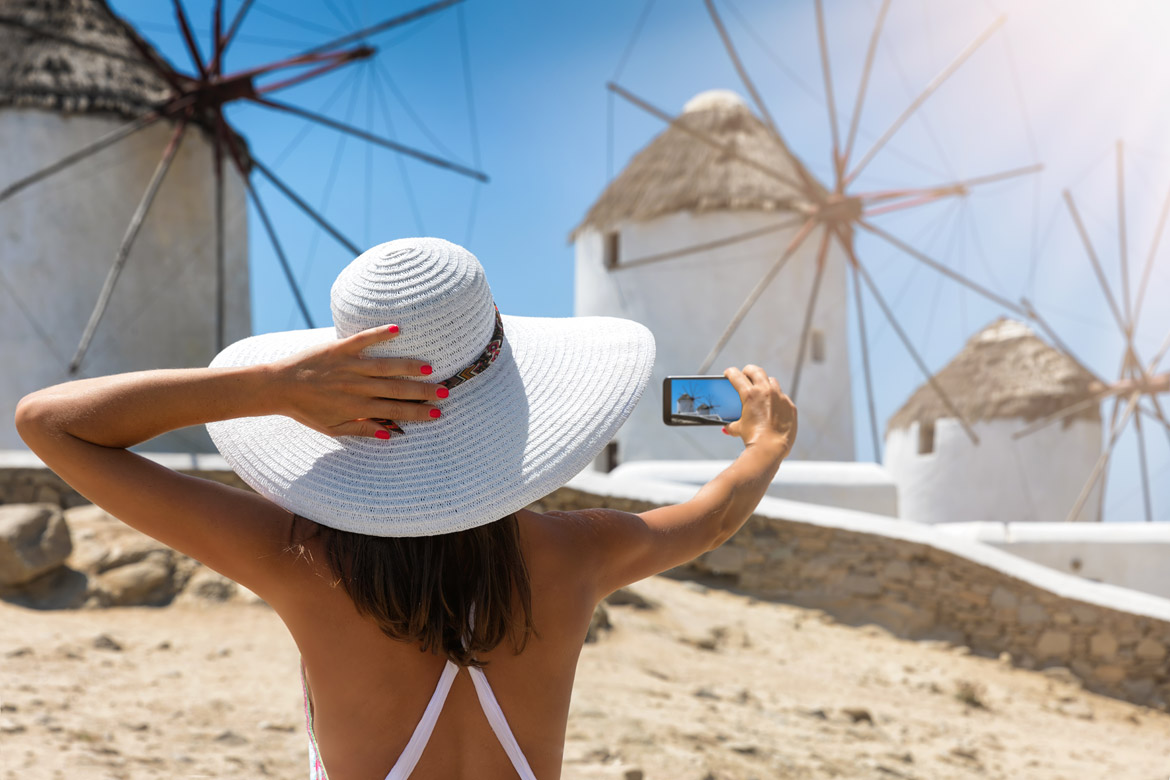 Mykonos entered the global jet-set's destinations' top list back in the 60's, at a time when the Aegean archipelago was still a half-deserted paradise waiting to be discovered. Its first 'colonists' were legendary celebrities like Grace Kelly, Aga Khan, Elisabeth Taylor, Richard Burton, Marlon Brando, Jackie Kennedy, Rita Hayworth, Mick Jagger — not to mention Greek tycoons like Onassis and Niarchos, chiefs of states, famous sports stars, movies' directors, fashion designers; and a million more.
Today, this amazingly beautiful small Island with the spectacular landscape and coastline remains an undefeatable attraction for the new celeb generation, like Kendall Jenner, Bella Hadid, Leonardo DiCaprio, Richard Branson, Stavros Niarchos III, Russel Crowe, Tiffany Trump – along with the "usuals"; chiefs of states, famous sports stars, movies' directors, fashion designers, and a million more.
Where can you stumble upon them?
Psarrou beach is definitely a perfect spot to see and be seen. Nammos, one of the most famous beach clubs in the world, is a top choice for the glitterati who seek an extraordinary experience both in dining and partying.
Super Paradise Beach is also a standard choice, with the daily beach parties lasting until long after dark.
For the most romantic ones, Agios Sostis tops the list, together with Agios Stefanos for those who prefer to stay away from the big crowds. Lia and Paraga beaches are a must. Moreover, the Mykonian coastline features hundreds of small or large sunny, sandy beaches, many of which are accessible only by sea.
If you hope you can meet your favorite celebrity while having lunch, keep in mind that food choices in Mykonos are endless — from dining at exclusive Michelin-starred elegant restaurants to enjoying fresh fish at a traditional tavern!
Are you ready for an unforgettable encounter? Start planning your stay with us and prepare to explore Mykonos!