Mykonos: Christmas & New Year by the seaside
When laying under the burning sun at one of the exquisite beaches of Mykonos, with the transparent azure fresh water and the golden sand whispering promises for a perfect holiday, you cannot easily imagine this fascinating island in "Xmas" mode! Yet, welcoming the Holy Child and then the New Year in this corner of the world can be a once-in-a-lifetime experience.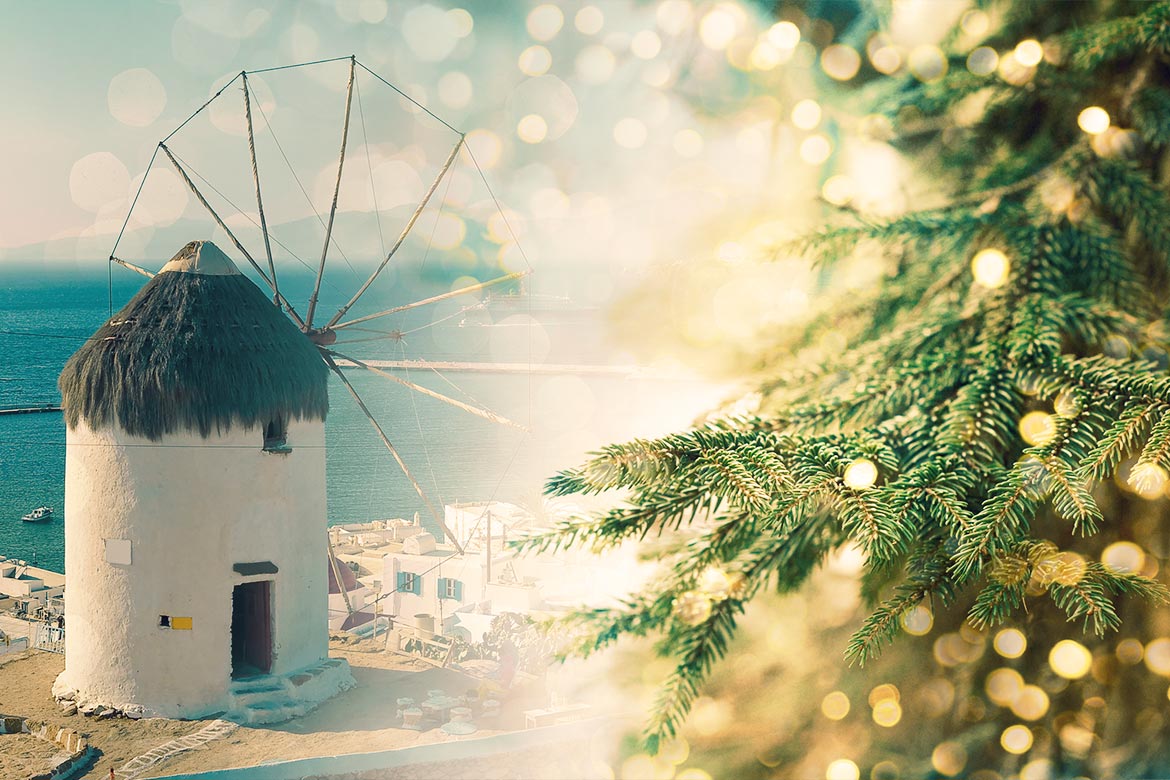 First, Mykonos makes no exception to the rules of the famous Greek hospitality. To the residents of the island, especially during festive times, visitors can easily become home guests. Being open-hearted by nature, they are always ready to share their joy —and food— with newcomers; provided the latter are willing to drink, sing and dance the whole night through!
Christmas in the Cyclades is more of a quiet religious celebration and a family feast, featuring beautiful local customs and homemade culinary delicacies. Instead of Xmas trees, in most houses and public places the festive decorations include shining, lit up model fishing boats, decorated with small colorful lamps and all sorts of flags. You will love the decorations on windows and doors, usually depicting large quantities of painted snow as it is very unlike to see the original weather phenomenon appearing around the Aegean!
You will also love the custom of Carols —or kalanta in Greek— with children carrying decorated toy boats and knocking on every door early in the morning on Christmas and New Year's Eves to sing the beautiful festive songs, using local musical instruments and the traditional small silver "triangle" (trigono) which produces the sound of bells. Carolers are treated with coins and the famous kourabiedes (butter biscuits with almonds, dusted with icing sugar), melomakarona or finikia (baked biscuits dipped in honey syrup) and diples (fried dough dipped in honey syrup). Both their taste and smell are irresistible!
And when the New Year's Eve comes, all the above usually end up in a wild party —at home or at a bar, nightclub, or restaurant— that will start right after sharing the pieces of a mouthwatering sweet pie, called vasilopita. According to the tradition, he or she who finds the lucky coin hidden inside it will have a great new year! As far as dining is concerned, many restaurants in Mykonos town offer seasonal menus that feature the best of the best of the festive, traditional Greek cuisine, which is another excellent reason to plan your Christmas holidays in Mykonos!