The art of architecture in Mykonos
The first impression when looking at Mykonos from above is of a canvas of white square patches, interrupted by azure blue church domes, glittering swimming pools and the open "arms" of the emblematic windmills. It wasn't always like this though.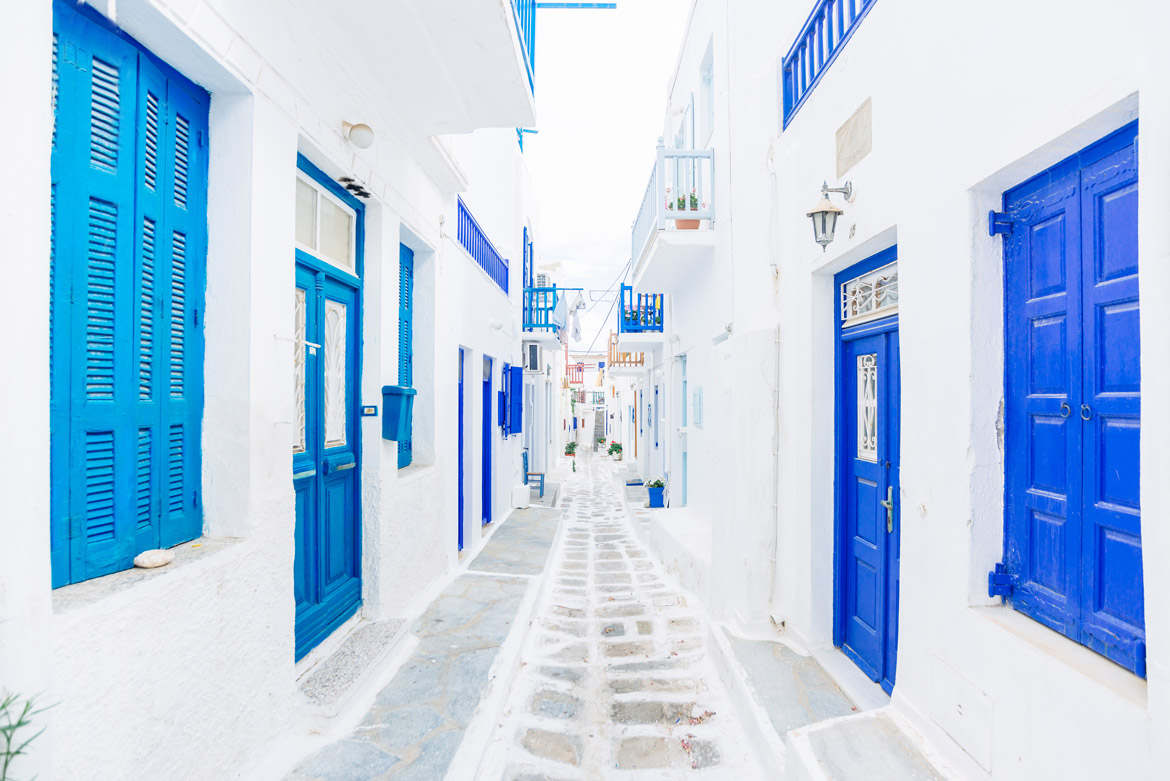 Some centuries ago, the island was filled with imposing castles, built to keep away the pirates. Their remains can still be found, as a proof of the island's brave struggle against invasions.
The pirates' threat was also the reason why houses in Mykonos and many other Greek islands were built one next to the other, as if glued together, and the streets were made extremely narrow to serve as hide-outs. Most houses were usually made small since the supply of basic building materials was a tough, often impossible adventure, and they were always facing the south to avoid the north wind blasts, that can be fierce and chilling. Sometimes the residences also included a small chapel.
Inside the houses wisely placed air corridors would allow a light fresh breeze even on the hot summer days whereas the thick stone walls, the patios and open verandas regulated the temperature regardless of the weather conditions. Long before the energy friendly concept was born, the architects in the Cyclades were developing a clever climate management that guaranteed a most comfortable living.
Not much has changed since then and visitors get to love the simple forms, bold lines, shady open spaces, bright blue and green window shutters on whitewashed walls, small balconies crowned by flashy purple bougainvillea, and the dazzling sunlight everywhere. Mykonos is like an art gallery, featuring a vivid tableau that incorporates the past and present of the Aegean culture and lifestyle.
Mykonos is one of the finest examples of Cycladic architecture, incorporating the spirit of simplicity in combination with the Venetian influences on the area. Characteristic of the local architecture are also the famous windmills that along with some medieval monasteries are declared as historical monuments.
Needless to add that today's Mykonos' DNA as a top luxury destination has inspired architects from all over the world to create some of the most beautiful residences and resorts of the Mediterranean!